The steps included in this documentation will allow you to create/deactivate/reactivate/export/invite and add users against projects.
With the amazing new Kim User Management tool, administration staff may perform the following user management procedures for their Kynection KIM system:
Create New KIM User
Before creating a new user, please note a Contact and User is created in KIM when creating a new user.
If no integrations are syncing employee contact / payroll details into KIM: the system will auto-create the Contact. A new user may be added with no further steps


If integrations are syncing contacts records for employees into KIM from a third party app (e.g. MYOB, Xero), new users should not be added until the Contact has pulled in from the financial package. Once the contact is synced, please ensure the contact name and email are an exact match for the new user details. If this step is not done, issues will arise later. Once this is complete you may commence at Step 1 for setup of a new user


New User
Log into the Klient Portal using https://portal.kynection.com
If you require login details, please contact Kynection Support for an email invite to join the portal.


Click on the hamburger menu icon in the top left of the screen




Click Kim User Management on the menu that appears


Click the Create New User



Add the user email, User Name, password, and choose a User Type and Role. Click Create User once all details have been filled in.

If Contact details are being integrated from a third-party app
Please check there is no duplicate Contact in KIM.



If a duplicate contact exists, delete the one created on account creation. To do this, click into the Contact, click the Edit pencil icon, then click the garbage can icon to delete.



Ensure the Contact Email and Name in KIM are an exact match those of the new user created



Editing existing users
You may edit existing users by clicking the edit pencil to the left of the user you are wanting to update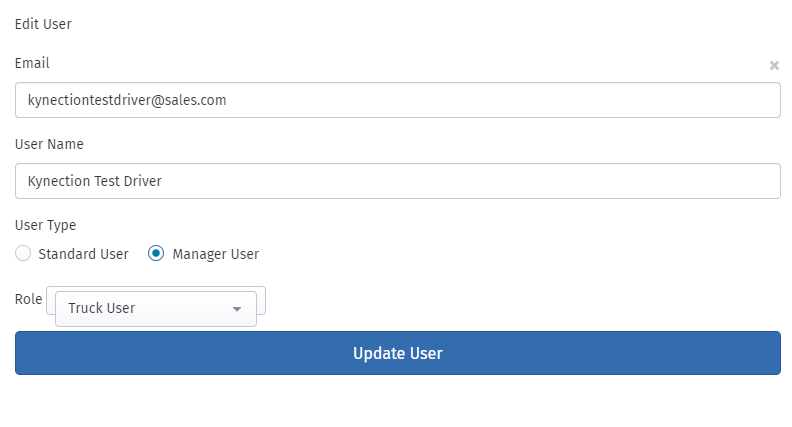 Deactivate User
The Deactivate button can be clicked to deactivate a user, which will revoke their access for the KIM system.
If you need to deactivate a user please don't remove the group from their contact until their last payroll cycle has been completed or this will wipe them from the view in HR which will ultimately remove them for the payroll view
Re-Activate User
The re-activate button will re-activate a user who was previously deactivated, and restore their access to the Kynection KIM system.
Export Users
If you click this button, it will export a list of all KIM users into a CSV file.
Project access drop down box: This section allows the user to grant or revoke project access to individuals.
Portal Members tab
This section allows the user to invite their team member to use Klient Portal
Invite New Member: This button allows the user to invite new Klient Portal Users

Document Version 2.1